So my brother is coming to visit in a little over 3 weeks and as of a few days ago the guest bedroom was filled with boxes and other miscellaneous junk. Not exactly a place someone would want to stay for 10 days. Are you noticing a trend? Remember the 'before' pictures of the loft with all the piles of stuff? Well guess where a lot of that stuff landed up? Apparently I am one of those people who just moves things from place to place instead of finding a permanent place for those things.
Our house has 3 bedrooms. Our master bedroom is a decent size and the other 2 are on the small side - 10 ft x 10 ft to be exact. One of the rooms will be a guest room and since we don't have any human kids the third room will be a craft / sewing room - yay! The craft room is also a hot mess right now but that will be another post for another day.
So the guest room. It was one of the only rooms that the previous owners painted and they selected a blink-inducing shade of green (that didn't really come out in the photo). The lovely green walls were also very dirty and the flat paint made it impossible to wash the marks off. Then there was the monstrously huge ceiling fan and the blinds that fell out of the brackets every time we tried to raise or lower them. Oh and the pillow case tacked over the small window.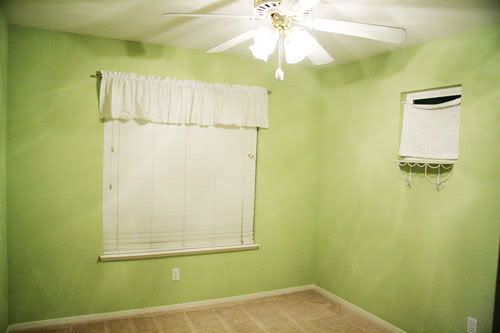 I wish I'd taken a better 'before' picture but this is the best one I could find. I should have stepped back and maybe waited until daylight - apparently I wasn't thinking.
We had leftover paint from the upstairs hallway and loft so we just used that. Yay for free paint! I don't remember exactly when we started painting this room but I know it was a looooong time ago. And because it was a low priority room we didn't finish painting until about a week ago. This past weekend we had a fun time taking all the junk out of the room and moving it to the future craft room (because that's what we do around here, remember?). I really don't want to spend much money on this room so I looked around and found things that we could use in the room. Luckily I have a (bad) habit of buying things that we don't really need if I think I can use them at some point in the future and the item is a good deal.
This is after bringing everything into the room:
That box sitting by the pillows is a ceiling fan. I'm embarrassed to admit that we bought it over a year ago. And then it sat in a box until Sunday. Procrastination anyone?
I got the bedding and mirror on clearance at Home Goods last year, the cute little chair came from a thrift store, the side table came from Marshall's, the lamp was on clearance at Target, and the bed used to be in our master bedroom before we got a new mattress and made a snazzy headboard out of a door. The queen sized bed is probably a bit big for this small room but we have to work with what we have! I can't believe I had all that stuff just lying around. I think I might be a hoarder.
Obviously its not done and I am planning on doing a few little projects in here to make the room look more put together and less like a bunch of random crap got thrown into the room last minute.
Hopefully I will get things done more quickly than the painting and ceiling fan hanging took. 3 weeks and 2 days until our visitor arrives!