After so much work it is SO wonderful to finally be about to sit outside and relax in our outdoor space.
I honestly never thought our rustic mess of a deck could ever look this good ... and I'm so glad I was wrong.
Its hard to believe we started with this:
And now have this:
Much better, huh?
I was lucky to find the furniture for a steal at a summer preview sale back in March. The fabric color didn't exactly scream 'summer' but I really liked the style (and color) of the metal frame so I went for it. A couple of months later I was looking through the Restoration Hardware (love that store!) outdoor living catalog and saw the 'Carmel' collection and I couldn't believe how much it looked like my set. I'm sure theirs is better quality but we got an entire set for quite a bit less than just one of their chairs - I love it when I can get the look for less!
I couldn't find any pillows I liked so I bought some indoor/outdoor fabric and made my own.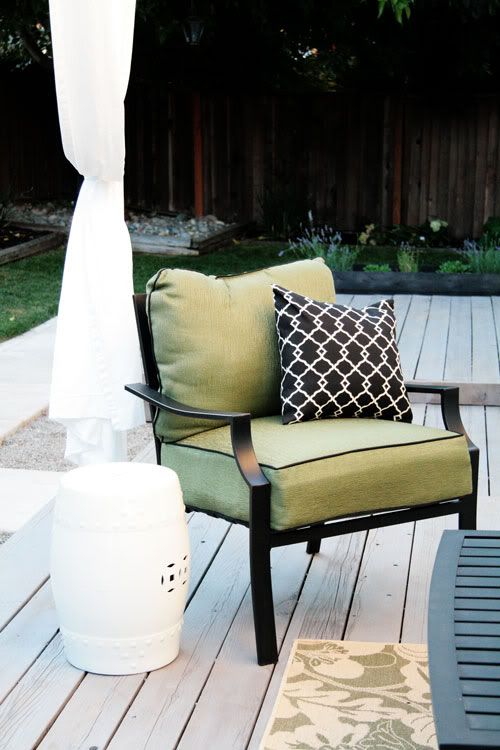 The white garden drums came from Big Lots back in February. I thought they would make great side tables and for $20 each I couldn't get them in my shopping cart quickly enough. Since then I have seen them in a bunch of stores but always for quite a bit more.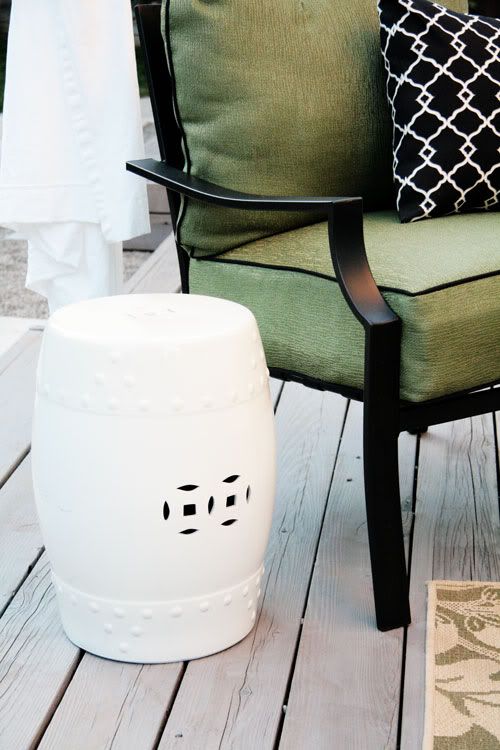 We added drapes to give us a little privacy from our super close rear neighbors. They don't completely obscure their view but its better than them being able to see and hear our every move. Instead of getting special outdoor drapes we just bought some inexpensive cotton panels from Ikea. We don't get any rain in the summer so all they have to deal with is the intense sun and they're already white so we don't have to worry about them getting bleached out.
I got pretty creative with the rods because after pricing outdoor drapery rods I decided they were way too expensive. I work next door to a small hardware store so on my lunch break one day last week I wandered around to see what I could find. I ended up getting electrical conduit and pipe straps for under $10. They made perfect rods and we like the slightly industrial look!
In the end we decided against a shade cloth 'roof'. We thought it would look better without it, and anyway its not like we're sitting out there in the middle of the day when the sun is overhead.
Its really cosy at night with the lanterns and string of lights lit.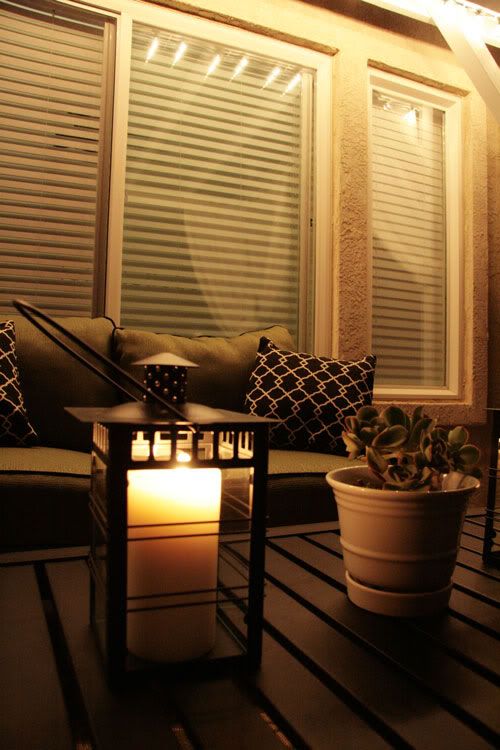 We tried it out with the curtains down (oops I guess I should have ironed them) and it made a nice cosy little room.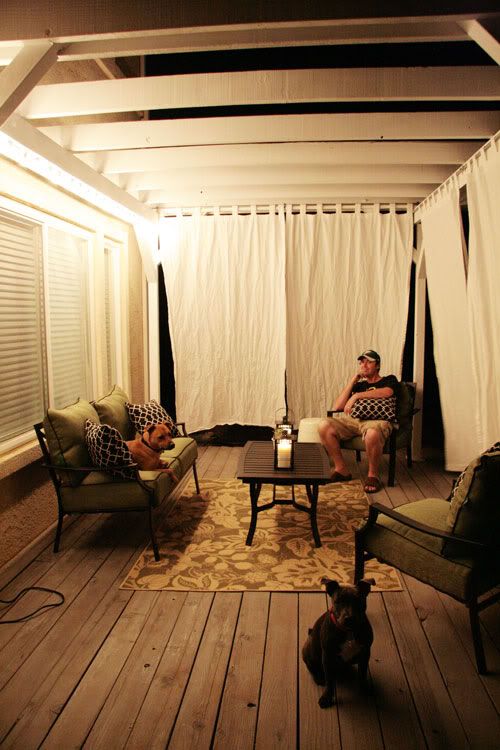 Wanna come over and hang out?