Last time I posted about the deck we still had to replace the removed boards and then power wash everything. Oh how many hours of labor ago that seems now ...
But first here is a picture I just found. I took this when we went back to look at the house to see if we really wanted to put in an offer. Very, ummm, rustic!
So back to the present day. After replacing the boards, removing the shade cloth, and power washing we got to this point:
Definitely an improvement but still not the look we were going for. The deck is made of (old, weathered) redwood and I think most people would go the route of buying a redwood colored deck stain and going to town but we just weren't feeling the red tones. In fact, we didn't even really love the brown look. So we thought we'd create a lot of work for ourselves and do this ...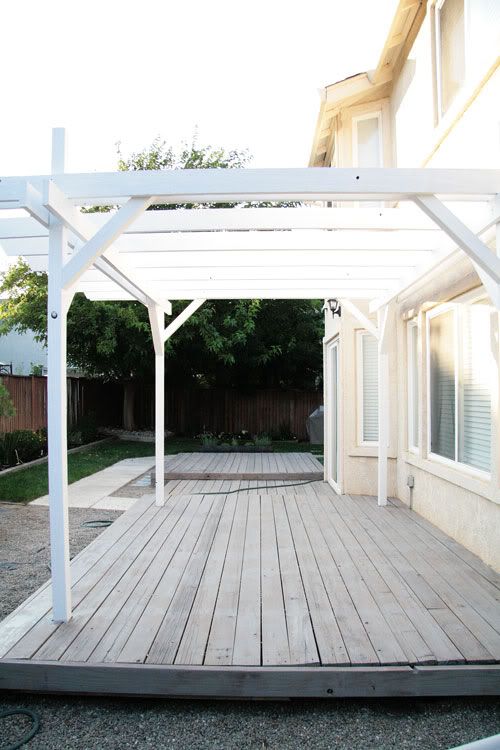 ... and we LOVE it!!!

We did 1 coat of stain blocking primer + 1 coat of solid stain in white on the pergola, and 1 coat of semi-transparent stain in gray on the deck. I got stuck when we were choosing the deck color and had it narrowed down to 2 grays so Josh made the final choice and he definitely made the right one. The brown shows through a bit and almost makes the deck look a bit like drift wood, which I love.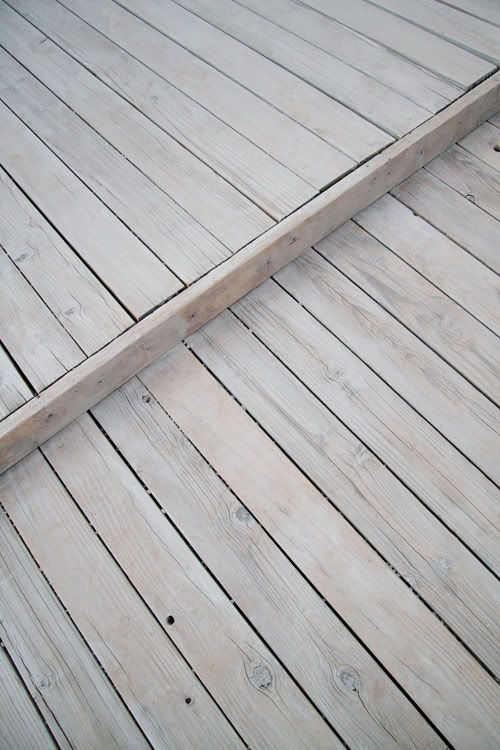 I always hear decorators/designers say that paint (well in this case stain) is the cheapest way to transform a space and that is definitely true in this case. I couldn't stand the deck before and now I love it!
There are a few spots that need touch-ups, and we still need to put the trim back around the bottoms of the pillars but most of the work is done. And by work I mean almost 30 hours of painting - sheesh!
Also, I love how it looks without shade cloth but we really need it out back so we'll be reinstalling it sometime this week.
I cant wait for the weekend when we'll be setting up our outdoor room with goodies I've been collecting since the winter!