The good news: we found out today that our new countertops will be installed on Tuesday.
The bad news: we haven't powered through our to-do list quite as fast as we thought we would and are now running a little behind.
We (and by we I mean I) are learning that everything takes longer than you think it will. Josh is usually more realistic about how long things are going to take but I find myself saying things like "oh I'm sure we'll be able to cut and install all the trim for the island in 45 minutes". Haha very funny Laura.
I read somewhere that the formula for DIY projects is to double your time estimate and increase by a unit - so, for example, something you think will take an hour will actually take 2 days. Sadly this formula is not totally ridiculous in our experience.
Here is our progress in pictures: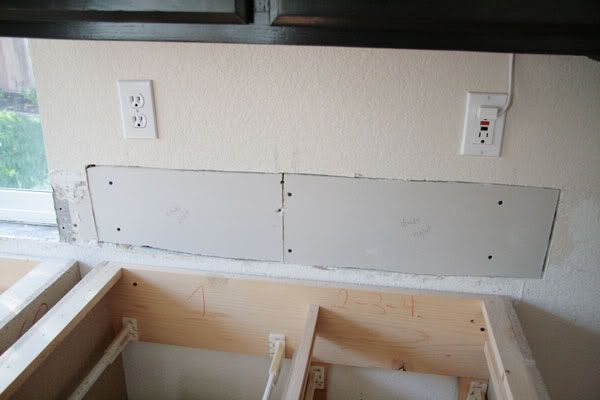 Patching the drywall was fun. Not. We could have bought a huge piece of drywall for six bucks. Unfortunately the huge piece would not fit in the car so we had to buy four 24"x24" pieces at $4.25 each. That was a bit of a bummer.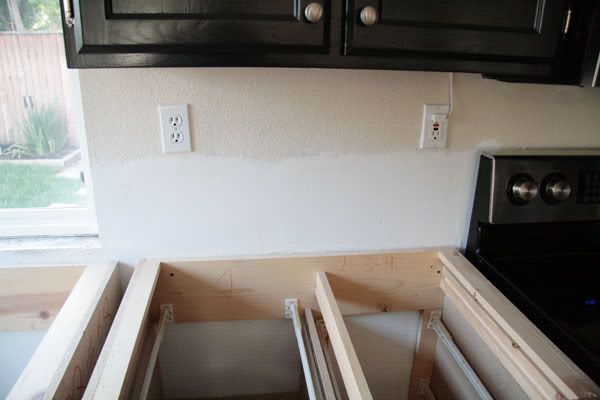 After taping the seams and spackling everything we spent a couple hours after work one night sanding everything smooth.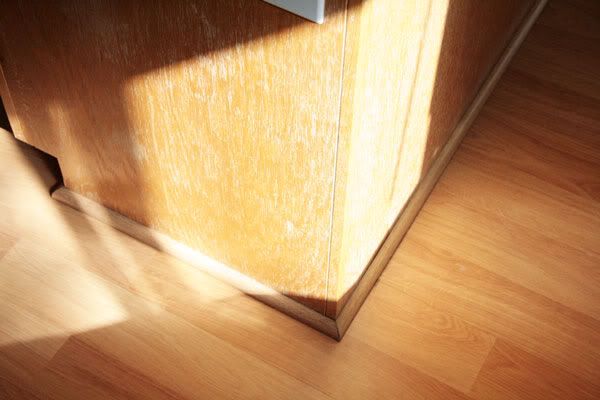 Next on the list was the island. The laminate floor was put in after the cabinets (there's linoleum underneath) and quarter round was put in to hide the gaps between the floor and the cabinets. I'm not crazy about how it looks so we removed it.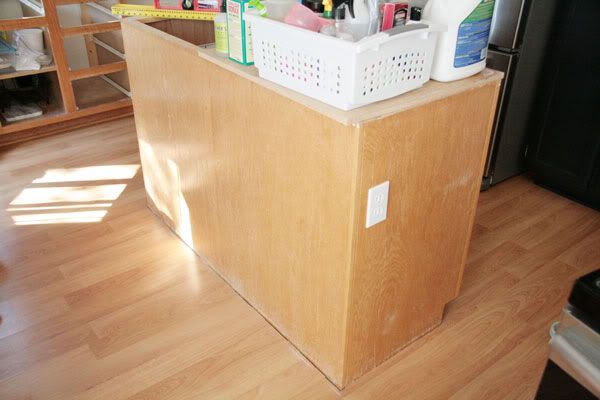 Isn't it just lovely how the island blends into the floor?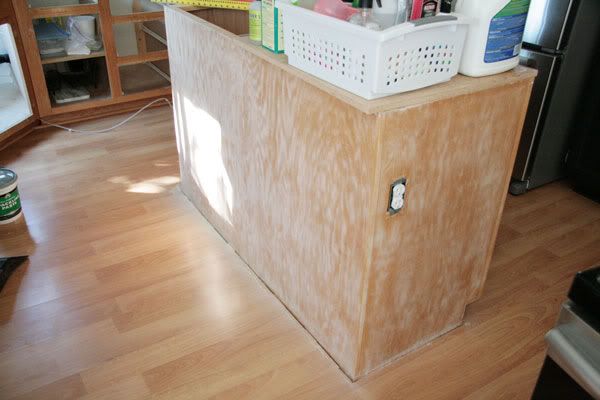 Next, a thorough sanding.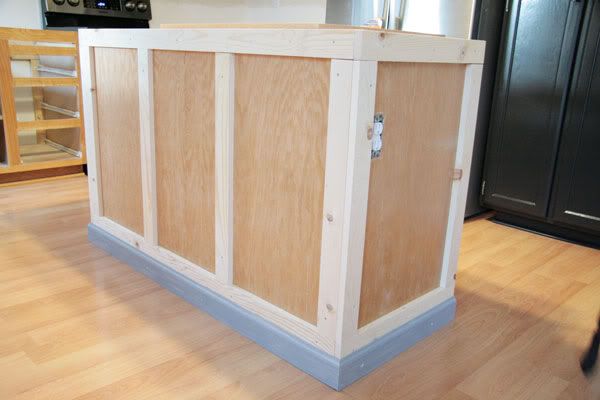 Then some trim. I really wanted a more chunky looking island so we used cheap pine 1x3s and some baseboard trim. Its a little hard to envision the finished product with the 3 different colors going on but I thought it looked pretty good for amateurs like us.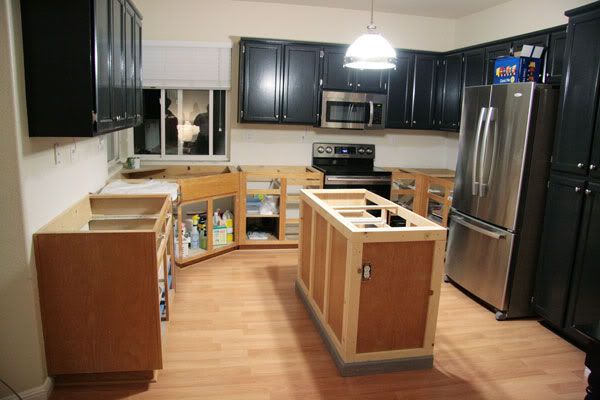 The stove back in place and no more holes in the walls!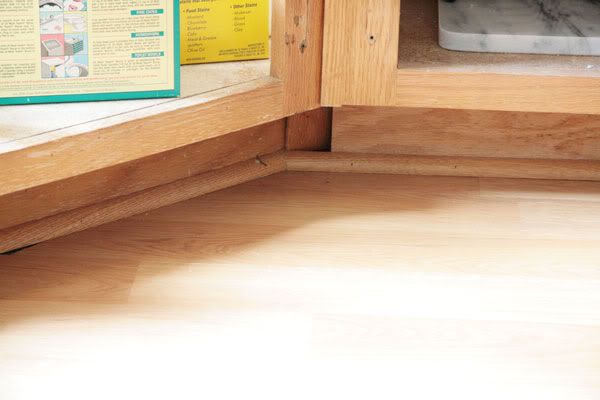 We removed the quarter round from the rest of the cabinets.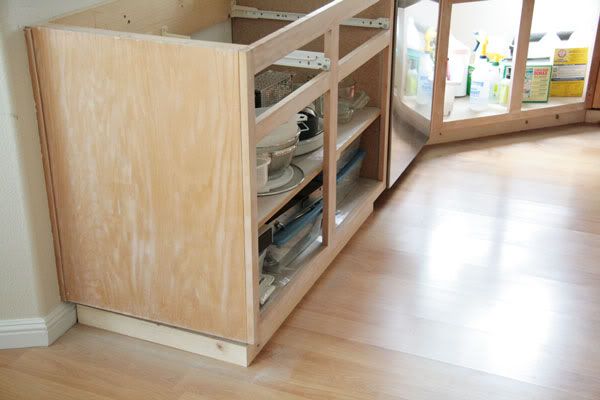 And started sanding.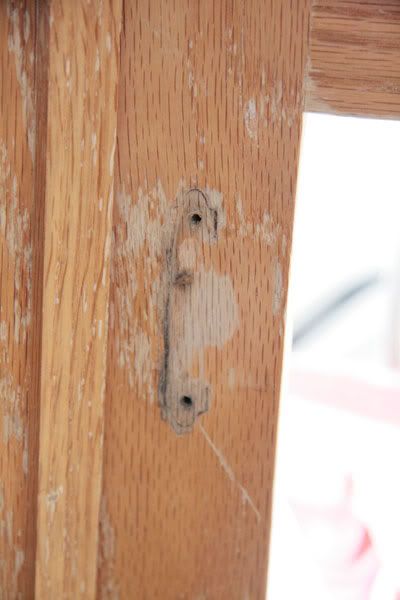 Some parts needed more attention than others!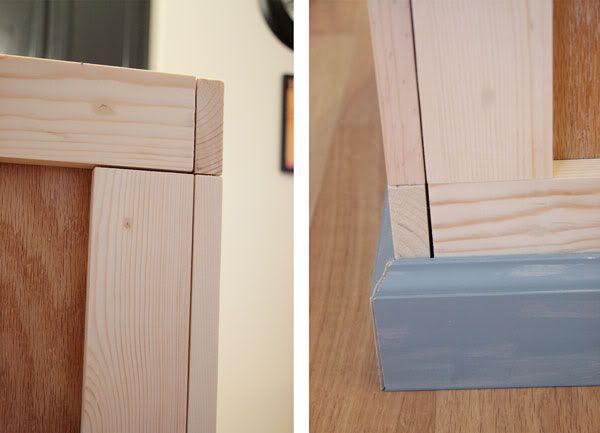 Our measurements weren't quite perfect so we had some gaps to fill.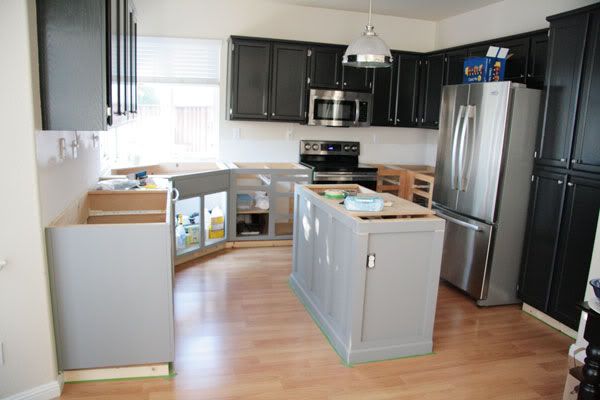 And then everything got a coat of primer. Well almost everything - we stopped at 10:30 pm because we have to get up early so I still have to finish priming the rest.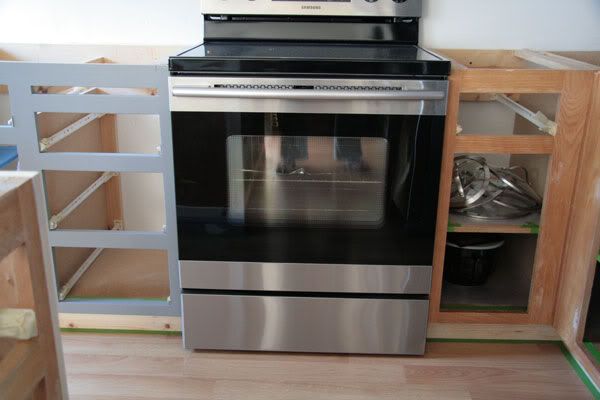 Somehow the primer actually looks better than the orange oak.
The doors and drawers are still in the garage and have been put on the back burner while we work in the kitchen. This weekend I need to finish priming, and then paint the cabinets. The polyurethane will have to wait until after the countertops are installed because I like to give the paint a couple days to cure first. I'm going to have to be VERY careful not to get poly all over those babies.
Oh and in case you're wondering what we do for entertainment while we're working on projects ... our go to is the 90s music channel on Comcast. Good times. Although we might have to change to something else because we realized that the early nineties songs are now 20 years old! That was a pretty nauseating realization that we're getting old.