I'm not sure if I ever explained why we chose black for our cabinets. I really love white kitchen cabinets but we just didn't think the oak cabinets would look good painted white. Oak has a lot of grain and the idea of white grain wasn't appealing. Also, we have a lot of dark wood furniture in our open layout dining area / family room and having an all white kitchen at one end would probably have looked out of place.
We weren't really feeling brown or some other color so I started looking around online and found a few kitchens with black cabinetry and fell in love. (I saved these pictures ages ago and unfortunately can't remember where they came from.)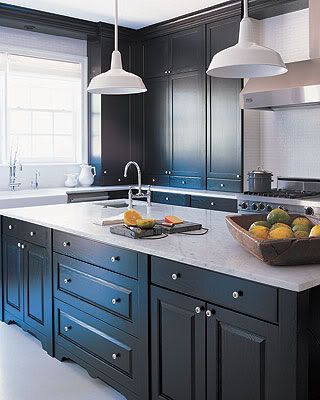 I love this one except for the lights over the island.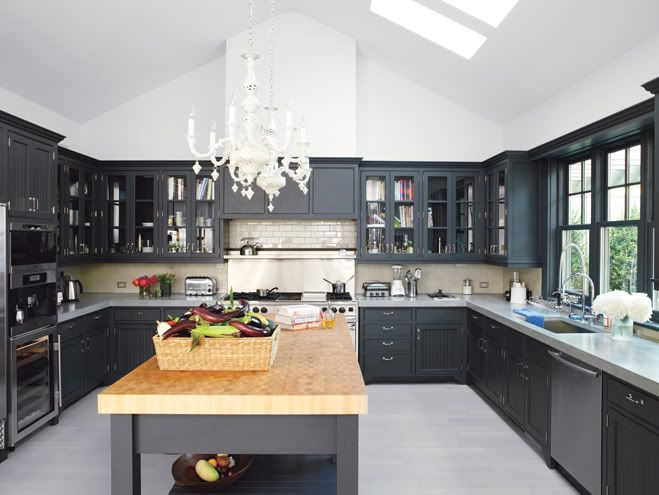 This is Gwyneth Paltrow's kitchen and I adore it too.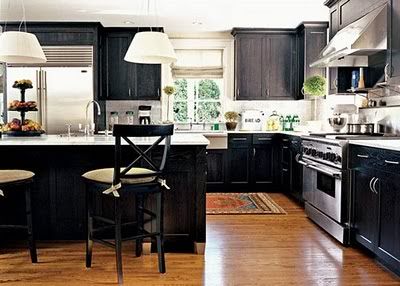 This is my favorite out of all the black kitchens I saw. I love everything about it! (I just wish I had a bigger picture of it.) Obviously that kitchen is more fabulous than we will be able to achieve but we decided to use it as our inspiration.
I love, love, love white marble countertops but they cost a lot more than we want to spend (also, we probably wont live in this house forever and a lot of people don't like marble in the kitchen because its a soft stone) so we went with quartz for the counters because they have white color options.
This is the color/pattern we picked: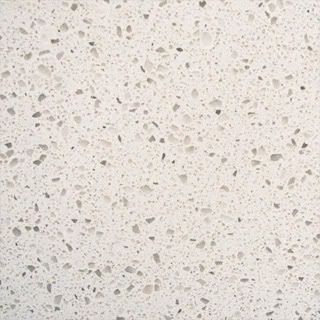 Its called Iced White and we ordered from Ikea. I got quotes from 5 places who all use different brands and Ikea had the best price by far. It looks a little busy in that small square - its more subtle when its a whole slab.
You're probably wondering why we are ripping out white tile only to replace it with white stone? Surely we're crazy. After 2 and a half years of living with the tile I am sick of it. The grout looks bad and is a total pain to keep clean, and I miss being able to roll pastry etc out on the counters - I always need to use a cutting board because the tile isn't totally smooth. Not to mention the sink area - no matter how much we scrub the sink never looks clean.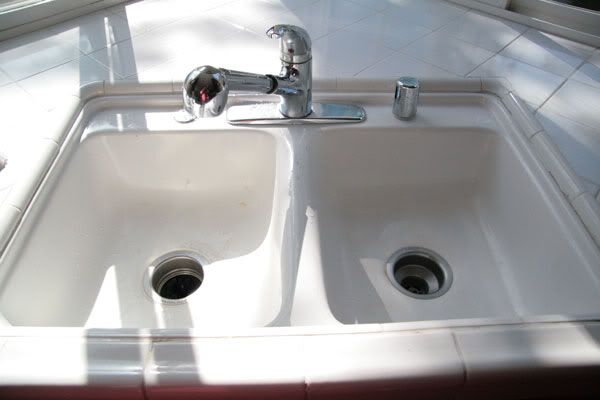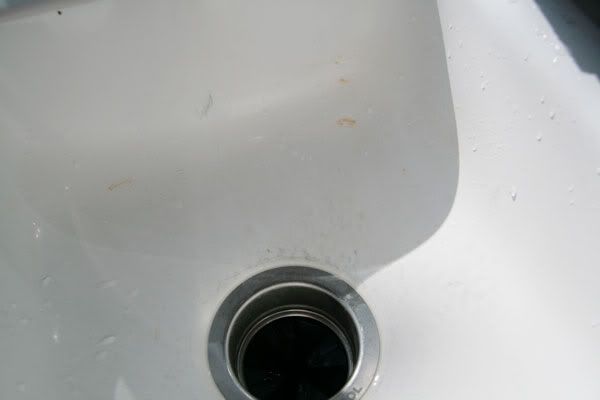 This is after a good scrubbing - those stains never come off!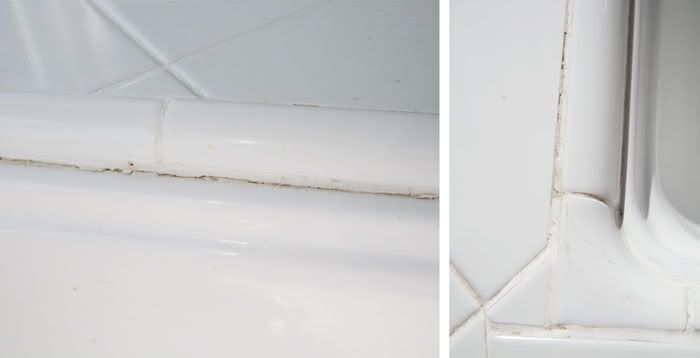 Yucky grout.
I am really looking forward to a nice smooth surface!
For the backsplash we are doing white subway tile. Simple and timeless. We also love colored glass tile backsplashes but with black cabinets and white countertops going for something neutral will probably look better.
We got a steal on the sink. We'd been eyeing this double width single bowl (we prefer no divider in the middle) at Home Depot and a couple weeks ago we noticed they only had the floor model left and it was on clearance for $100 off! We snatched it right up. The other day I noticed it had some weird black marks on it - oops didn't notice those when we bought it. Hopefully they come off.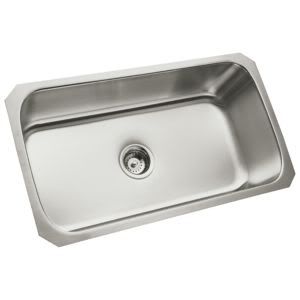 Sorry about the miniature picture - its the best one I could find online. I forgot to take a photo of the actual sink and now its at the countertop place.
Faucet shopping took a while. I was somewhat (okay very) picky about what I wanted and we also wanted to keep the price down so that really limited the choices. We finally had it narrowed down to 2 and couldn't make a decision. A week later one of them went on sale so that made our decision for us. I love it!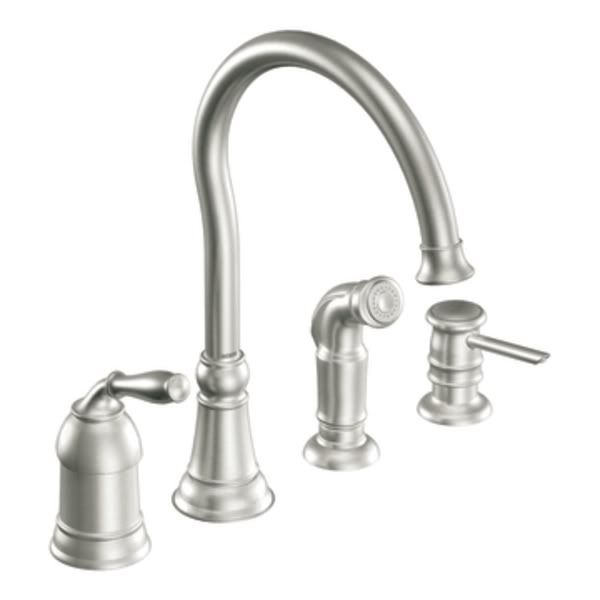 So that's the plan. I'll post some progress pics soon.