As I mentioned the other day we've been doing a lot of work in the back yard this year. I've lost track of how many hours we've put in at this point but its a LOT! Yard work can be frustrating because for a long time it didn't seem like we were getting anywhere but finally its starting to look better ... finally!
We are by no means done but I thought I'd share the progress we've made on one side of the yard.
I don't think I've shown many pictures of the backyard (because its been such an eyesore!) so here's a pic from shortly after we moved in: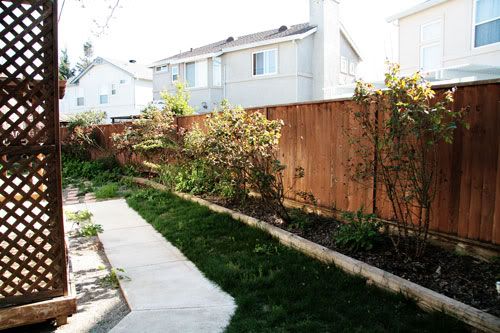 Just imagine its taken from the opposite direction because that's what all the other pics will be of (apparently I forgot to take a before shot of that area of the yard). Note the mangy rose bushes and patchy, weed infested grass.
We knew the rose bushes had to go but thought maybe we could save the grass. Unfortunately the weeds just kept getting worse and worse so we made the decision to replace it with new sod at some point.
You know how sometimes 'during' shots looks worse than the 'before' shots? Well this is definitely one of them:
The rose bushes have been removed but the 'lawn' is a hot mess. We actually don't remember it looking this bad - I think we've blocked it out :-)
This is a pic from a little further back and shows the strange privacy screen the previous owners put up. In theory its a good idea - given the close proximity of our rear neighbors - but it really closed in our small yard and was incredibly rickety.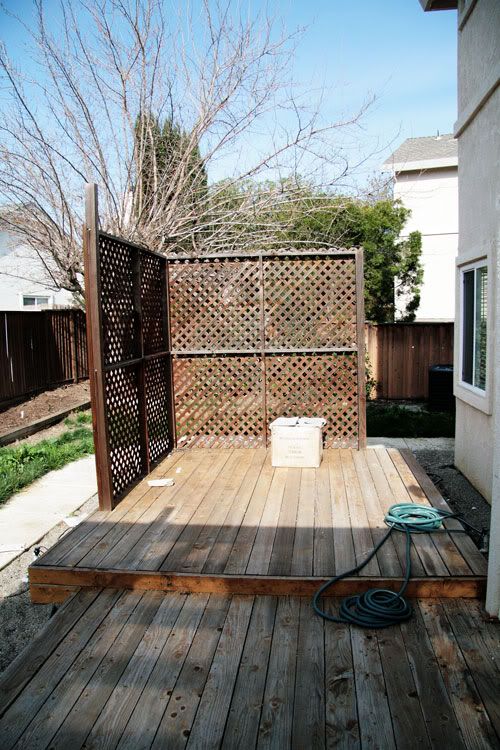 One Saturday afternoon Josh went to town on that screen and it was amazing how much bigger our yard felt!
We put all drought resistant plants where the rose bushes used to be. We get no rain in the summer so plants that like sun, heat, and very little water are a must. I did plant a hydrangea in the one and only shady spot we have. I have a feeling its not going to last long because they don't really do well here but I wanted to give it a try because I love them so much. So far so good ... although its only been a week since I planted it :-)
This morning our sod was delivered!
Neither of us was prepared for how hard we were going to be working to get it all in place. Oh and let me also mention that it was almost 100 degrees outside. It was wretched!
As usual the dogs were no help at all ...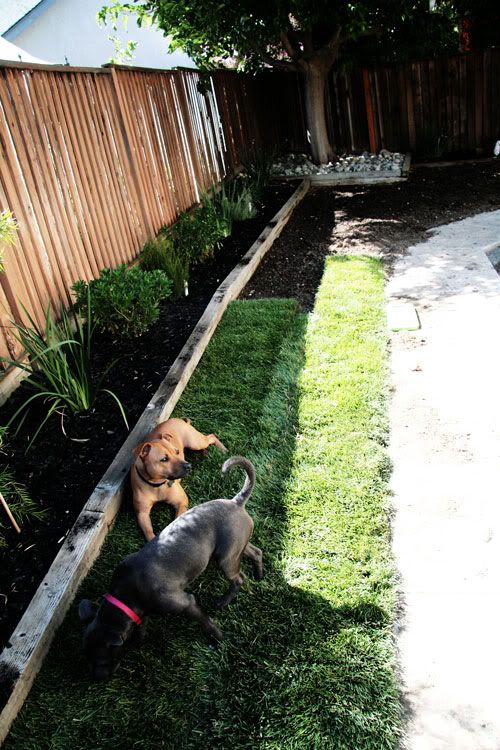 We were chasing the light trying to finish - here's Josh using the roller at 8:45 pm.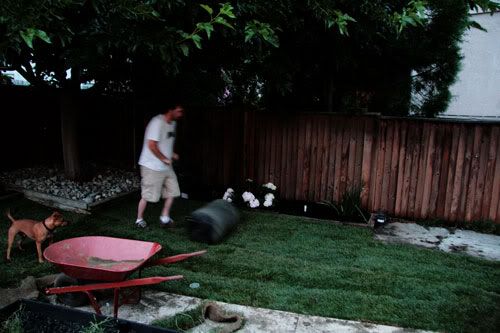 We left clean up for tomorrow.
I have a feeling we're going to be in a lot of pain when we wake up tomorrow morning!