I think back in November I said I would have the upper kitchen cabinets finished within a month. Clearly I was delusional because here we are 6 months later and I just barely put the last door back on. I probably could have finished in 2 months but the weather wasn't good for painting and then I just got burned out.
When I start phase 2 (the lower cabinets) I'll do it in small sections to hopefully prevent burnout. I love the end result but getting there is a LOT of work!!
As a reminder here is our kitchen circa October 2008: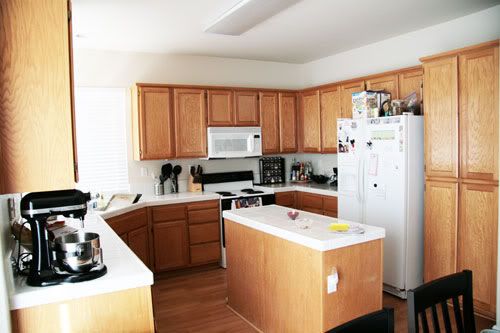 While it wasn't hideous we definitely weren't feeling the oak-on-oak color scheme we had going on in there. On top of that we had a cracked microwave and a dishwasher with rusted racks that was so loud we had to crank the TV volume while it was running.
We replaced the fluorescent light with a pendant, and slowly saved up and replaced the appliances one by one. It took a year to replace them all and while the wait was hard for my impatient self it was so nice to pay cash for everything! And then the cabinet painting started ...
Without further ado here it is today: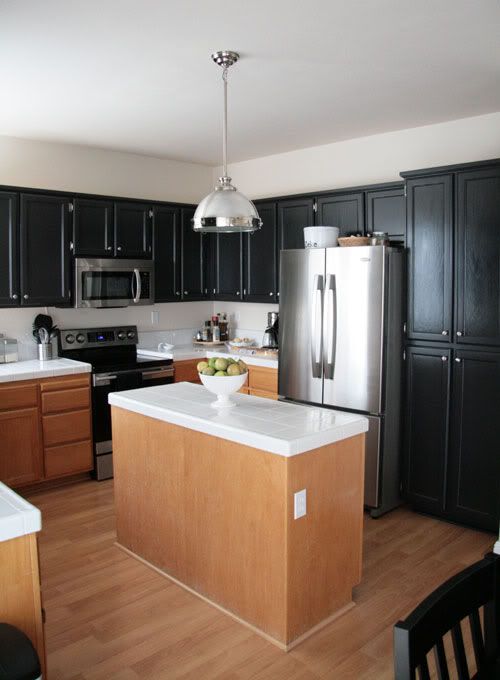 Even though it still has the oak lower cabinets I am so happy with how it looks. Its such an improvement!
At first I was disappointed that the oak texture showed through the paint but it has really grown on me. I think it adds some nice texture.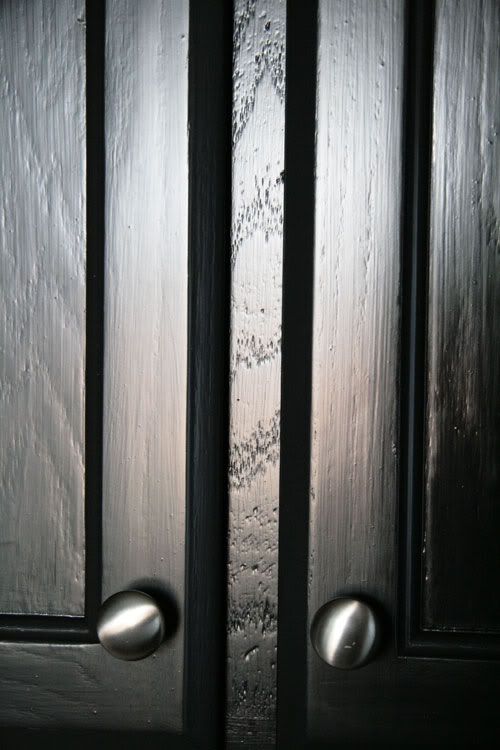 I don't think black cabinets can work in all kitchens but luckily we get a lot of light through the 2 windows by the sink so that keeps it from looking too dark and depressing.
Because our sink is set at an angle there is this huge space behind it that I'm always trying to figure out how to fill. Right now I have a collection of thrift store finds with some $3 grocery store flowers:
The vintage ball jar is my favorite recent find. I love the light blue color and the old lid - its so pretty!
So that's where we are in the kitchen. My wish list item is new counter tops but unless I find a couple thousand dollars lying around we wont be getting those for a looooong time!