After two and a half months of being lazy and not posting anything on the blog here's a quick recap of what we've been up to:
1. I finally cut my hair after almost a year. I don't think I've ever gone that long and I'm not sure why I did but it was so nice to get rid of all the dead ends. I probably could have cut it all off and donated to Locks of Love but I already tried the short hair thing in high school and again in college (apparently I didn't learn my lesson the first time) and it was a bushy mess!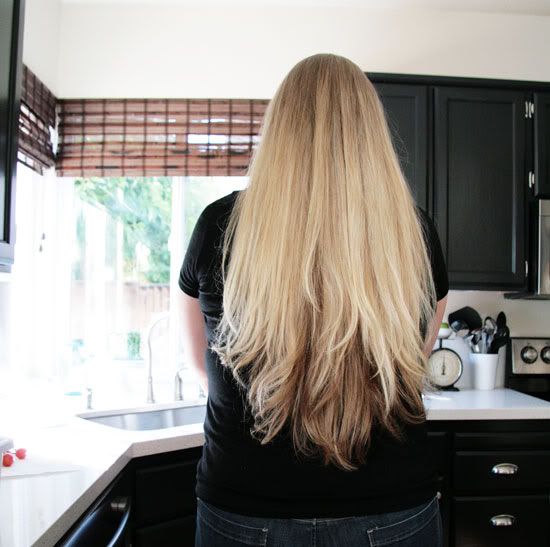 I also haven't highlighted it in a year. I kind of miss the light blonde color - you can see how its darker up near my roots - but I don't hate my natural color so I'm going to see how long I can keep it au naturale.
2. My boss picked up 2 hideous chairs from a thrift store and I made a muslin slipcover template for her to use to make real slipcovers for them. All the pets thought the chair was for them.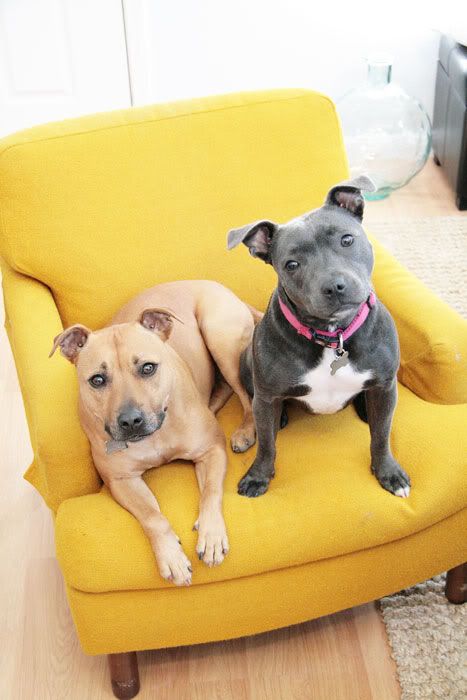 Love Zoey's expression in that one!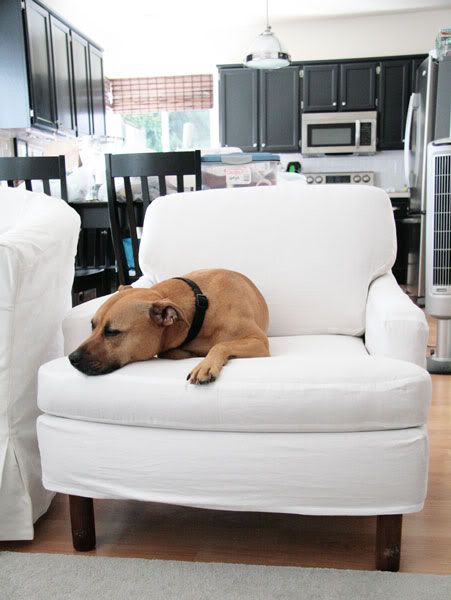 Amazing how much better the chair looks with that yucky fabric hidden. Zeke was sad when she took the chair back to her house.
3. I started dealing with my clothing hoard. I can't stand clutter and love getting rid of things but for some reason I hold onto clothes. It was getting out of control so I forced myself to get rid of a few things.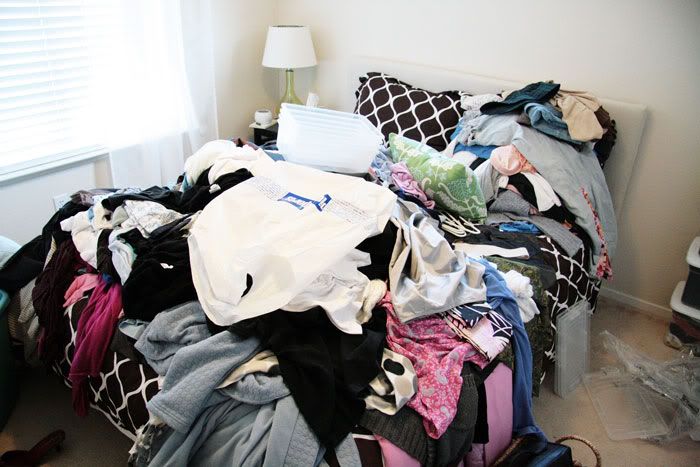 Okay so maybe it was more than just a few. Because I'm wierd I decided to sort everything by clothing type and fold into piles.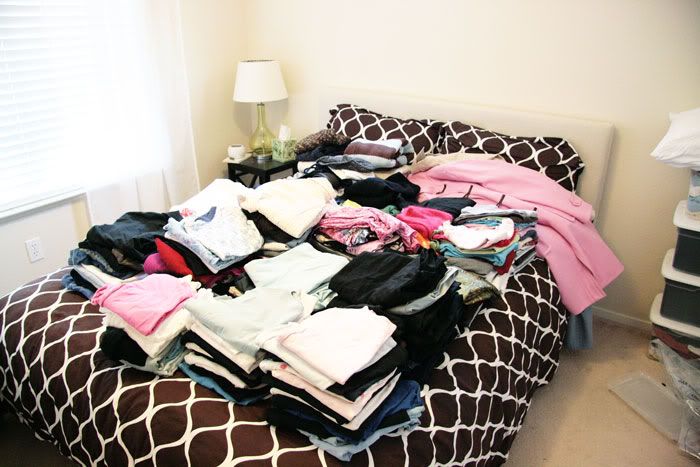 I gave it all to Goodwill - hopefully the fact that it was all organized was helpful to them or I wasted a couple hours for nothing!
4. We celebrated Josh's birthday (and forgot to take a photo).
5. My brother Paul came out to visit. The dogs love their uncle!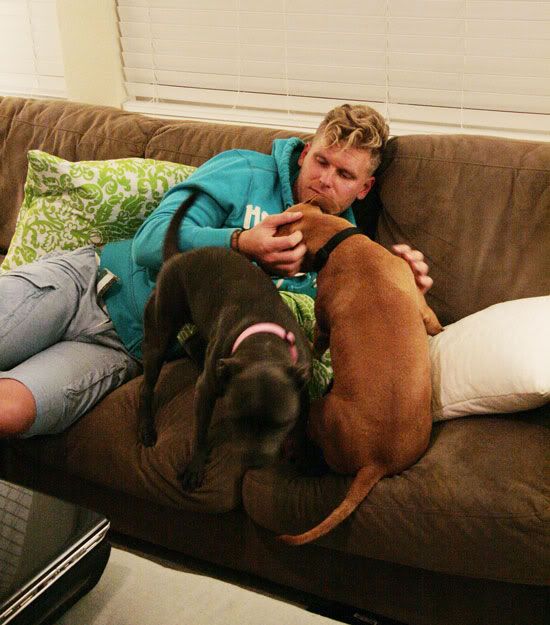 6. While my brother was here I worked on 2 projects for the family room - an ottoman and a knock-off Pottery Barn mirror. I just realized I haven't taken any photos of them so I'll have to post about them later.
7. We celebrated our 4th anniversary. This is not a great photo of the 2 of us but its the most recent one I could find.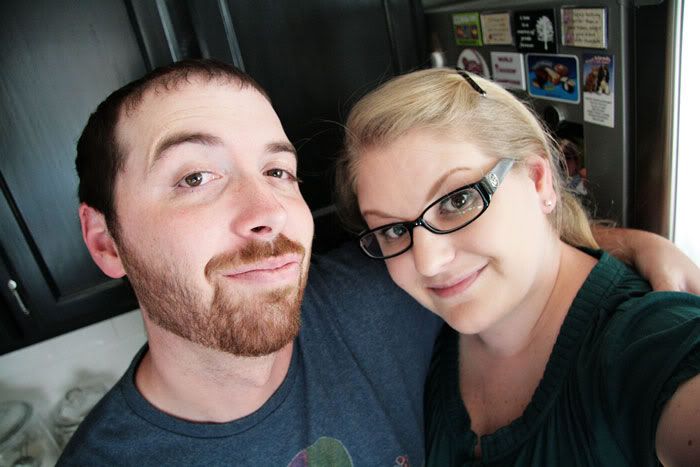 8. I threw a baby shower for my dear friend Erin. It was a lot of fun and we played a game where each guest was given a balloon and had to make it into a baby. This is Erin posing with all the babies that didnt burst: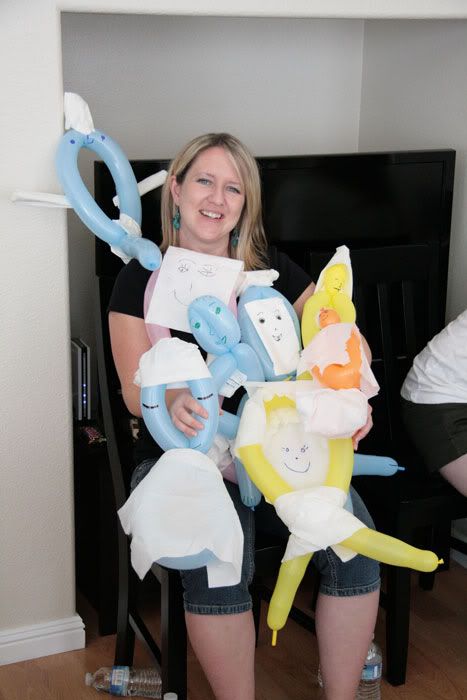 9. We celebrated 3 years of living in our home. Its hard to believe its been 3 years already!
10. Had out of town visitors: my freshman roommate Sasha, her hubby, and sweet little 3 month old Lucas.
I think that about covers it. Its finally cooled off here so I'm getting in the mood for the holidays. Cant wait to bust out all the Christmas stuff!