As promised here are the 2 family room projects I worked on while my brother was visiting.
I have always liked the Eagan mirror from Pottery Barn, but not the price tag: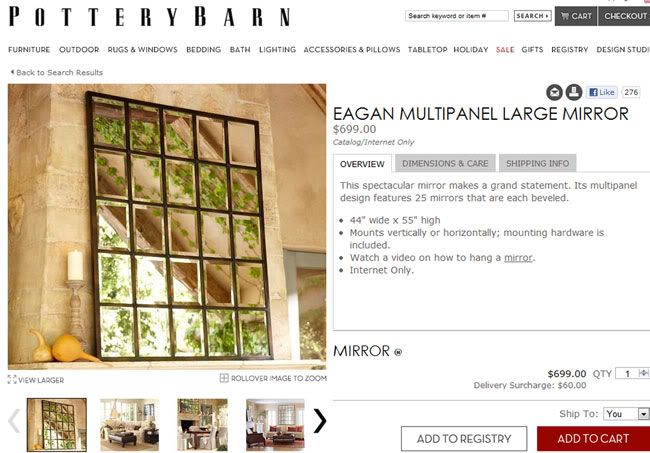 $699.00??? There's no way I would pay that much for a mirror so I had the great idea to make my own. (I have since realized that my idea wasn't that original and found quite a few good tutorials online. Too bad I didn't find them BEFORE I reinvented the wheel!)
I didn't take many photos of the process so here are my steps in fast-forward:
1. Buy mirrors. I got mine at the Dollar Tree but you can get them at a variety of places. Actually I got them at 5 Dollar Tree stores because I needed 30 mirrors and each store only had a few. I almost scrapped the project at this point.
2. Decide what you are going to use for the wood strips between the mirrors. I used screen molding from Home Depot.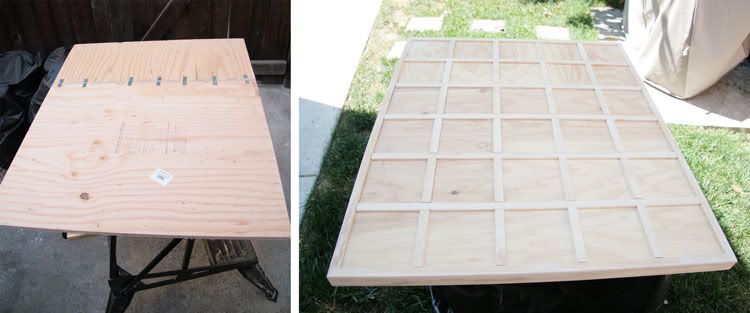 3. Figure out what size to cut your plywood backing so that it fits your mirrors and wood strips perfectly. Its a good thing I like math because calculating this was kind of a pain. I wanted to use scrap plywood we had lying around so I had to attach 2 pieces using flat brackets. Cut and glue on all the little pieces of wood. Surprisingly this wasn't the worst part of the project!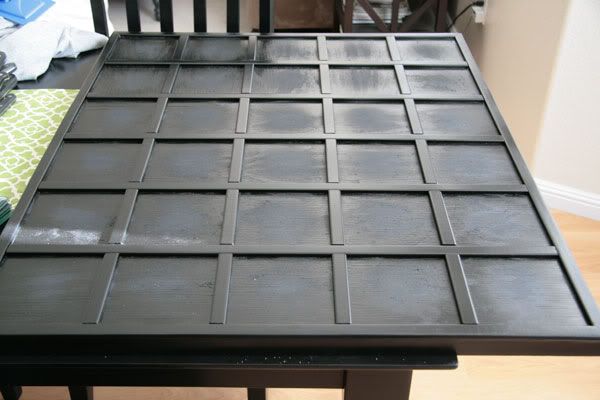 4. Prime and spray paint. It took quite a few coats to get a nice, even finish.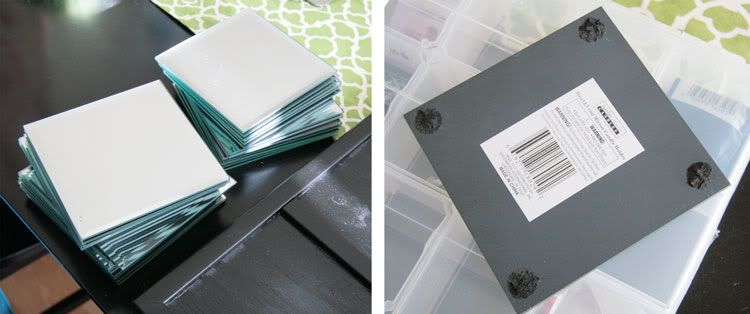 5. Gather your mirrors and start picking off the little foam pads on the underside. This took FOREVER and was by far the worst part of the project.
6. Glue the mirrors on and wait patiently for everything to dry.
Hang on the wall and admire: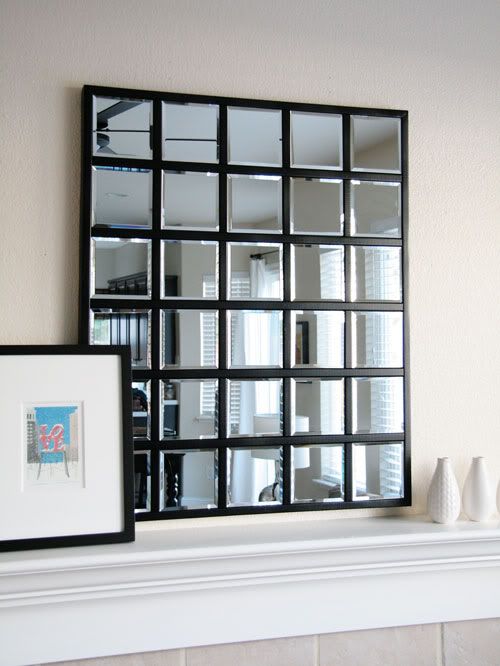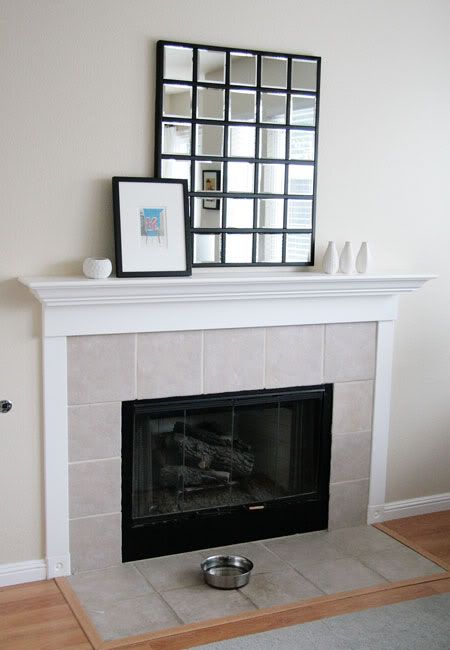 I love how it turned out and I especially love that I saved hundreds and hundreds of dollars by making it myself (even if it was a little time consuming)!
************************
Next we have the ottoman. I was looking for a big, tufted ottoman but couldn't find exactly what I wanted in stores. So because I'm crazy I decided to build my own. Here are my steps: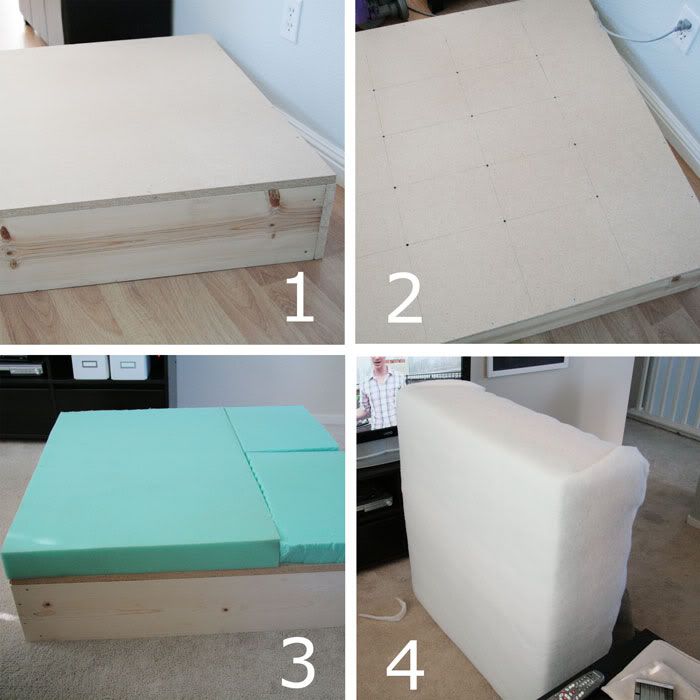 1. Build a frame and then screw on the top piece. Mine is pretty big - 36 x 36 inches.
2. Mark where your buttons will go and drill holes.
3. Glue on foam. We used 3 inch so it would be nice and soft.
4. Cover with batting and staple into place.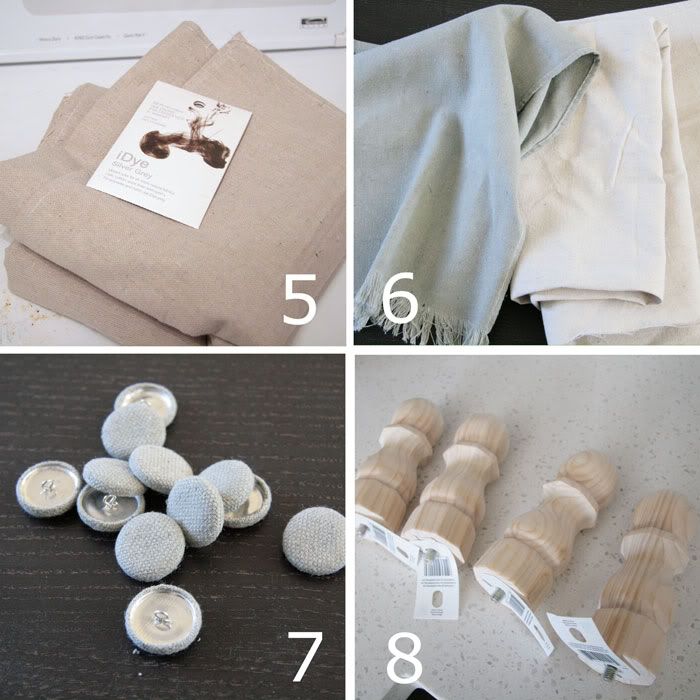 5. Get your fabric ready. I couldn't find the exact fabric I was looking for so I decided to use a fabric drop cloth and dye it. I was going for dark gray.
6. Here you can see the dyed drop cloth compared to pre-dyed. Unfortunately it didn't come out nearly as dark as I'd hoped. Cover the batting and staple into place.
7. Cover buttons with left over fabric and attach.
8. Attach the legs (after painting or staining them).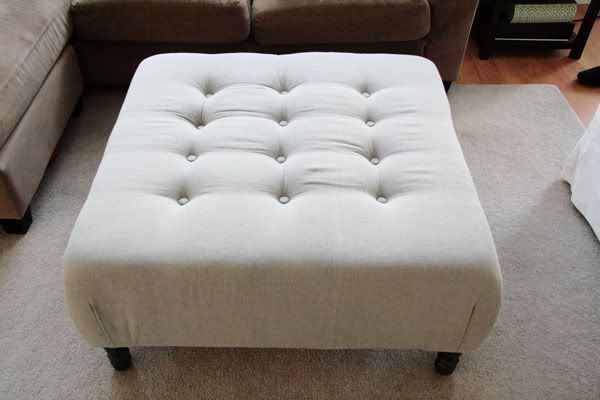 9. Victoriously place your snazzy new ottoman in the family room and realize its the exact same color as the rug - ooops!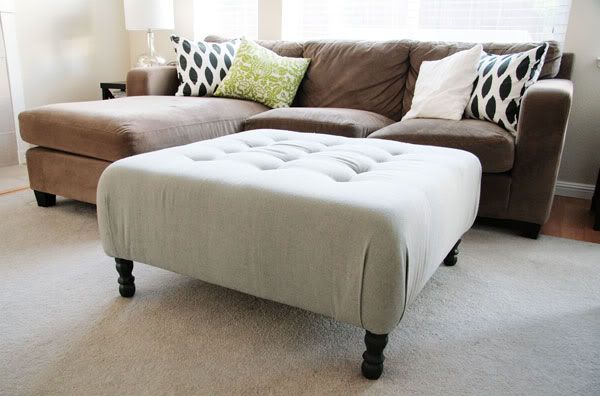 I should probably post a pic of what the room looked like with a coffee table for comparison but we have some other changes going on in the family room so I'll post another update soon.