We started our vegetable garden at the beginning of April and because I am such a slacker I am just getting around to blogging about it now. Better late than never, right?! I am breaking it up into 2 posts because I am wordy and there are a lot of pictures.
We built some raised beds last year and things were going pretty well until about August when suddenly all the plants got crispy and died. We watered them every day but we think that because the beds were quite small the soil just got too hot and dried out by the 100+ degree weather, which killed the plants. So we had to come up with a new plan this year!
We started with this glorious scene: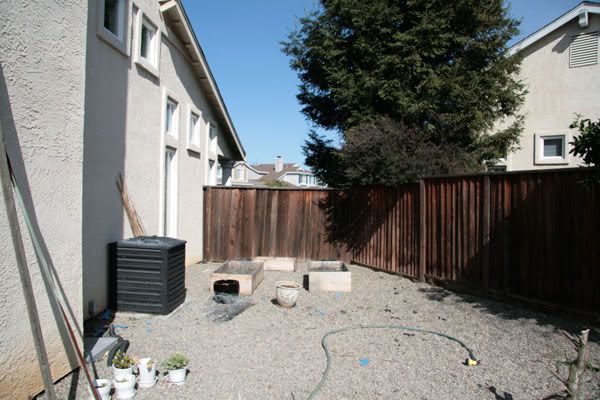 Our side yard is such a thorn in our side. Its a good sized space but unusable in its current state. We still haven't figured out a plan to get rid of the gravel.
We removed last year's boxes and built two new 6ft x 6ft ones out of cedar. We also decided to remove the gravel under them so they could sit directly on the soil, instead of on top of the gravel like last year. When we started moving the gravel we discovered plastic underneath - talk about a drainage nightmare! Once we cut the plastic out from under the box we realized that the 'soil' was actually orange clay - good thing we weren't planning on planting anything in the ground!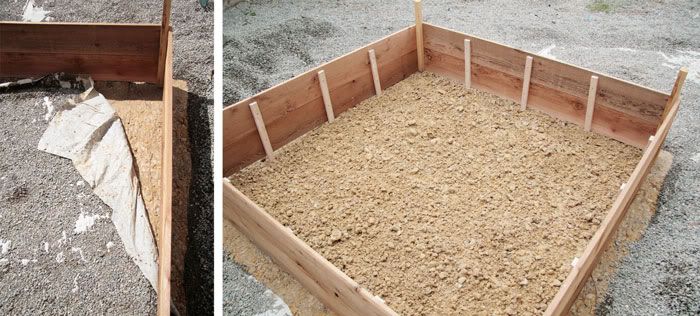 When we priced out buying soil for the raised beds we found that having it delivered from a landscaping yard was MUCH cheaper than going to Lowe's/Home Depot and buying it in bags. After measuring our beds we ordered 3 cubic yards to be delivered to our driveway. We knew it would be a lot but we weren't quite prepared for this: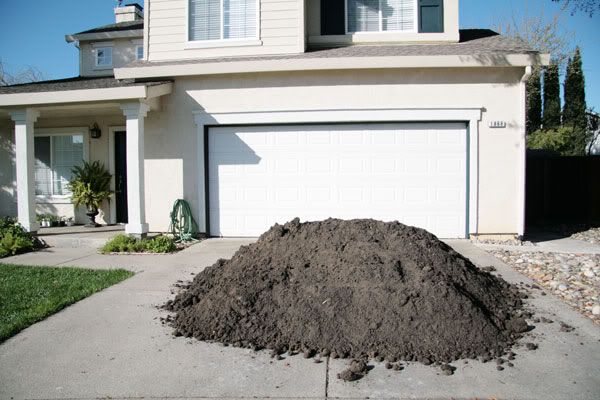 It took Josh and I about 7 hours taking wheelbarrow loads of dirt to the raised beds. I don't ever want to do something like that again!
Instead of fertilizer we use the compost we make from our fruit & veg scraps and yard waste, and we also wanted to add some earthworms. We bought some from the garden center - there were over 200 worms in that small container!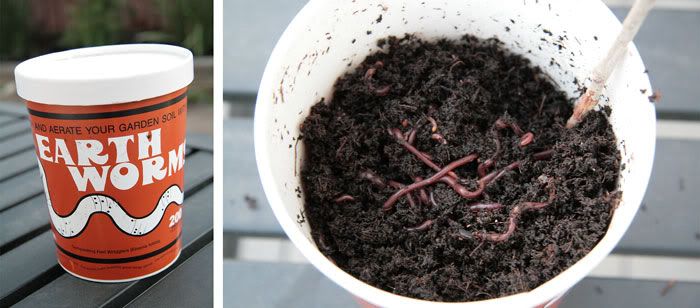 We planted tomatoes in the front bed and squash, a pepper plant, and sunflowers in the back bed. We put down chicken wire again to prevent neighborhood cats from using the beds as a litter box - how gross would that be?! The upside down tomato cages are protecting the sunflower seeds until they grow into little plants.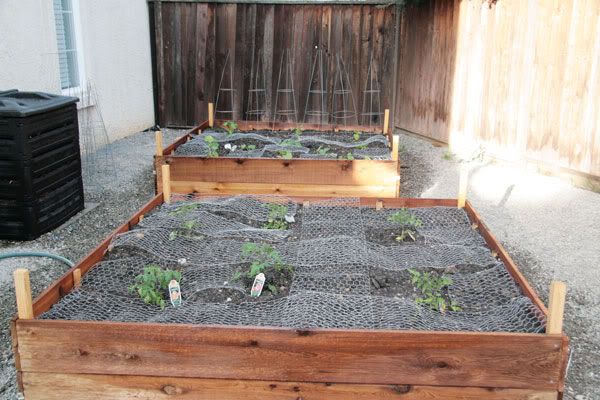 Then we just had to wait ...