Our loft has had a few looks. It started out like this: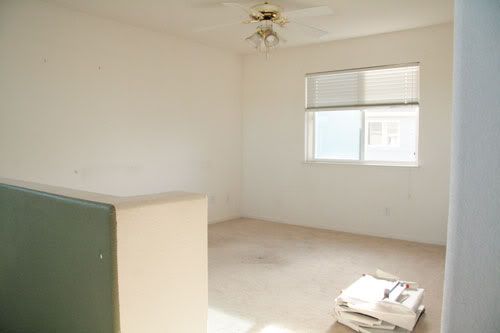 And then was in a variety of disarrayed states like this:
Finally ... after painting, replacing the blinds & ceiling fan, and decorating it now looks like this:
Yay!
Apart from the TV (we got a new one for the family room with our tax return money so this one moved up here) we literally had nothing for the room. We didn't want to spend a fortune putting it together and managed to find some great bargains.
The inexpensive TV stand came from Target and as you already know, we made the bookcases ourselves.
The sofa was a great find from Craigslist. Its the Ektorp sofa from Ikea and its the same one we have in the living room (with a different slip cover). Its in perfect condition and was a steal at only $210!
As you can see we have a lot going on on that wall behind the sofa. Josh and I have a pretty extensive Pearl Jam poster collection and we hate that most of them spend their life in an art folder so we decided to cram in as many as we could. It would probably be a bit much (maybe it still is?) if it was a totally walled in room but the half wall keeps things feeling nice and open and makes up for the poster madness!
Instead of a coffee table we opted for padded ottomans that we can put our feet up on. I found them on clearance at Target for $20 each - woohoo! It was pure luck that I found them for such a great price and in a nice dark gray that goes so well with the bookcases.
The tray used to be in the living room and is perfect for balancing a refreshing beverage!
I looked around and couldn't find the perfect pillows so I decided to make my own. Josh picked the fabric and I did the sewing. If you know how to sew, making your own is so much cheaper than buying them - they cost me about $7.50 each, including the insert (which I made with muslin and fiberfill) - not bad for custom pillows!
The ceiling fan has a light but I wanted additional task lighting and we were excited to find this guy at Ikea. Its quite heavy and looks much more expensive than its $50 price tag.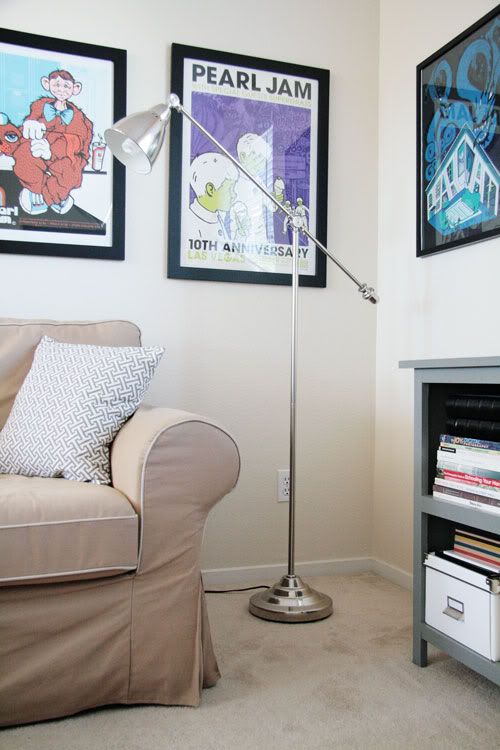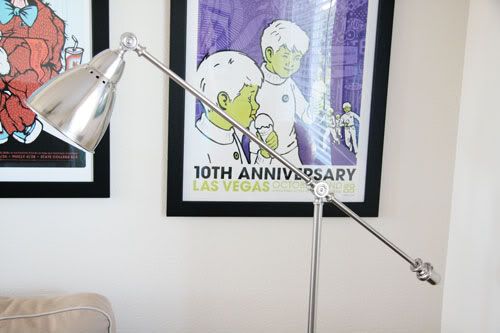 Because of the half wall and the little windows above the stair well the loft gets a LOT of light, which I love. Natural light makes me very happy :-)
This is my view from the sofa ...
although it usually looks like this because *someone* thinks they're a lap dog ...
I used Ikea storage boxes to store our Wii controllers and games but mostly because I'm weirdo and hate to see cables, and putting the boxes there hid them.
This handsome little devil is one of my favorite accessories in the room!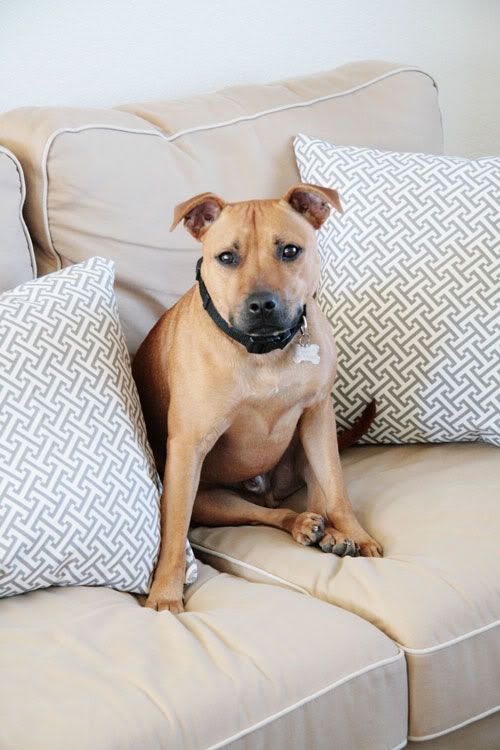 Its not a large room (its about 12 x 12 feet) but we are happy we managed to cram so much into it!
I know the photos look calm and serene ... well this is a more accurate depiction of what's usually going on in here!
Never a dull moment around here!