Somehow its been almost 2 months since I last blogged anything. Oops. Right after my last post Josh and I got the flu and felt like crap for almost 2 weeks, and then my dad came to visit for 10 days. Besides that we haven't had much going on.
While my dad was here we went to the California Academy of Sciences. Its such an incredible place from the sustainable design of the building to the exhibits. I had intended to take tons of photos but I was too busy reading and looking around to take many shots. Here are the few I did take ...
This is the Rainforests of the World exhibit. The rain forest is in the middle and then there's a ramp that winds its way upwards around the outside of the plants and trees and as you go upwards you see what the plant life looks like from the rain forest floor to the tops of the trees. There were also displays with snakes / lizards / frogs that would typically be found in a rain forest. It was a really cool exhibit. And so hot and humid. I could have done without that part but I guess they needed to make it realistic :-)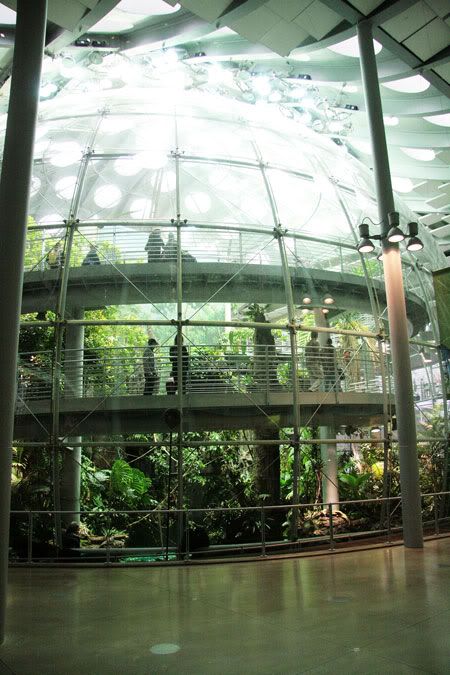 Up at the top there were a ton of birds and butterflies flying around. This is the only photo I snapped inside the exhibit because my lens (and glasses - how embarrassing) were totally fogged up.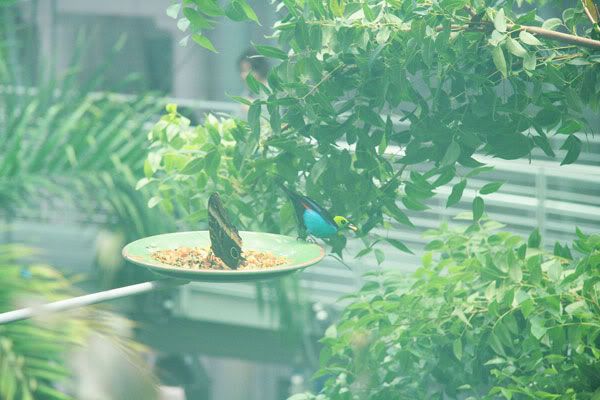 They have a pretty big aquarium section and I always find myself drawn to the pretty colors.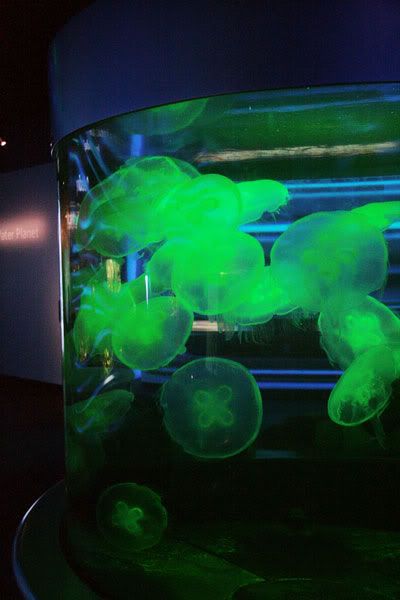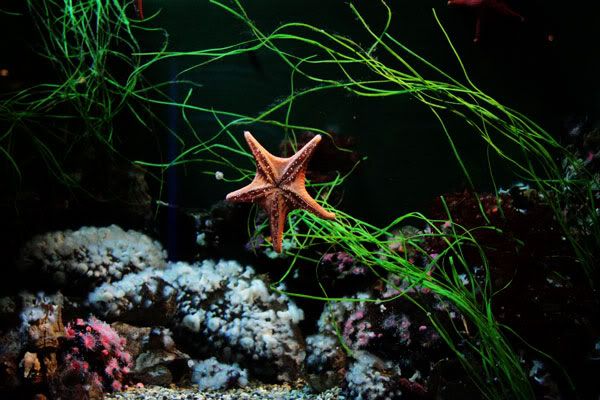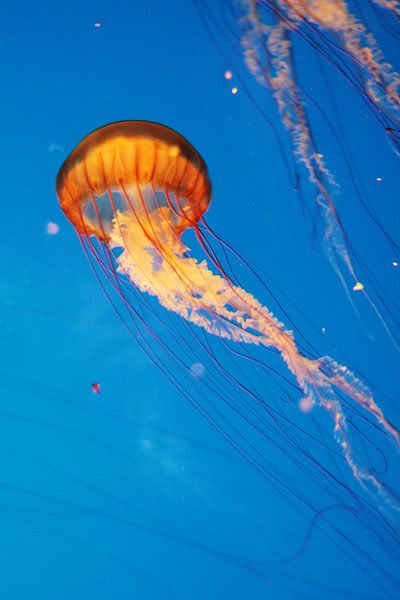 I think my favorite exhibit was the one about Climate Change. I work hard to keep my carbon footprint low, we try to eat responsibly (local, sustainable, little meat, etc.), recycle like crazy etc. etc. so I was all over this exhibit.
Josh and I both really liked this quote: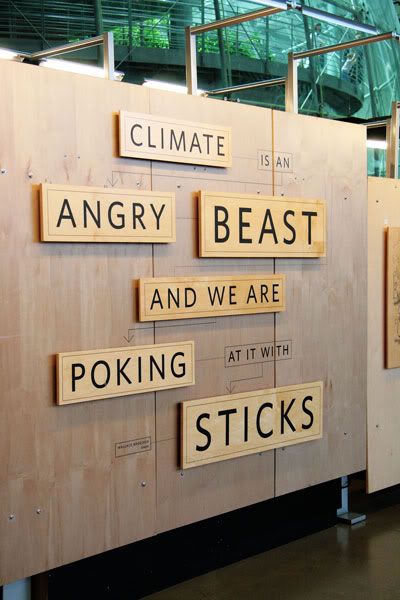 It should be easy to read but just in case it isn't, it says "climate is an angry beast and we are poking at it with sticks."
They had this thing where you could estimate your carbon footprint ...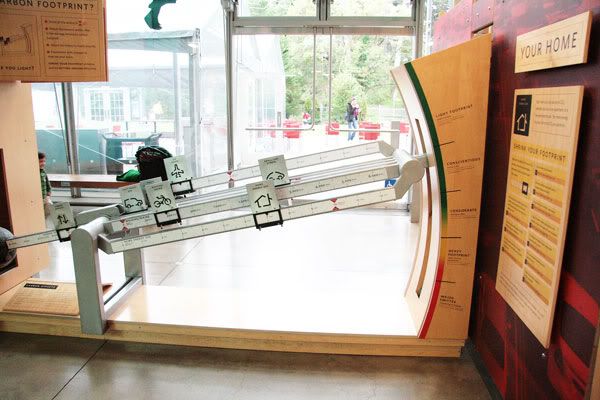 ... not too bad but we could do better!
I thought this was an interesting fact: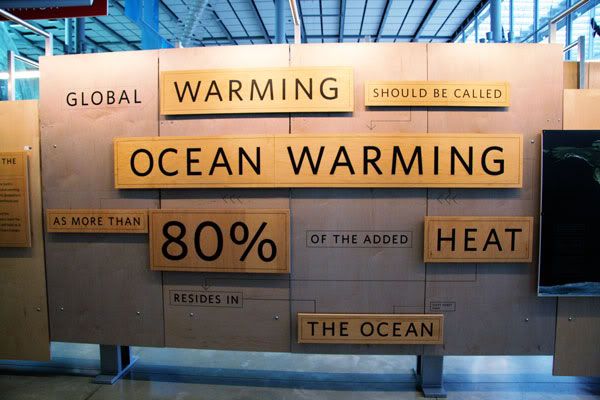 There was an area where kids could write their ideas and it was fun to read them.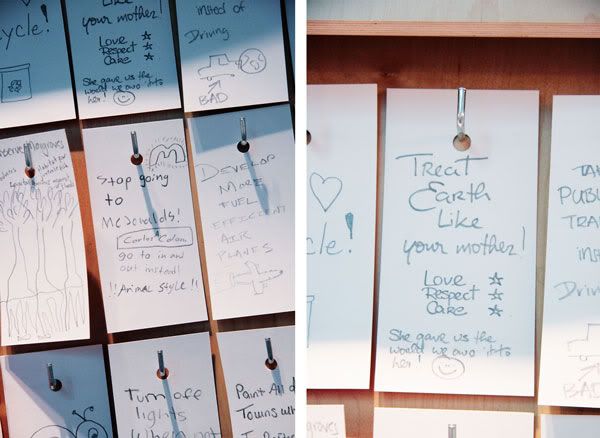 These were all over and the reason I took a picture is because I liked how the 'trash' is labelled 'landfill.' I think everyone would recycle and compost more if they thought about where their trash landed up.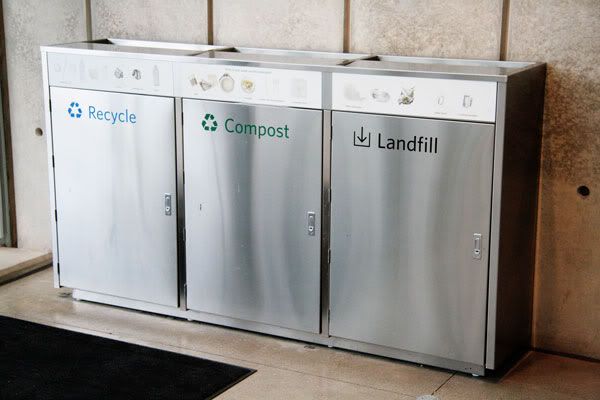 Just before we left we walked through a small Antarctica exhibit and saw this cute little (stuffed) guy - we decided he was the cutest thing we'd seen all day so I had to snap a pic.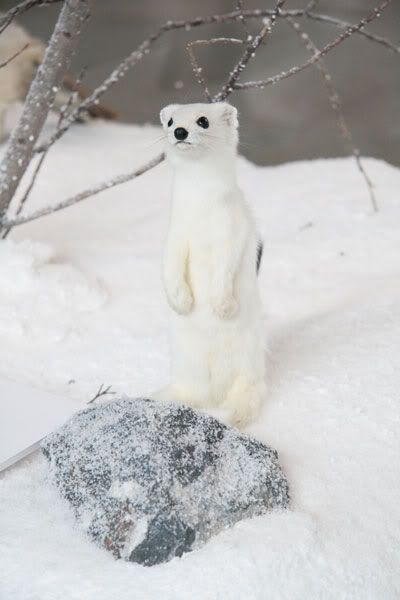 I wish I'd taken more photos - I guess I'll have to go back!
Another day we headed to the beach with my Dad. We'd had so much rain while he was here that we had to take advantage of the one sunny day he had. We were surprised to find what looked like a whale carcass in the sand.
Here's one with my dad in it for scale. He is well over 6 feet tall so you can see how big it is.
When we got home we looked it up and learned that back in October a female blue whale and her male fetus washed up on the beach after the mother was struck by a boat. It sounds like the fetus was aborted in the ocean after the mother died and then they washed up together. The mother wasn't there anymore (probably got washed back out to sea) and all that's left is the baby's rotting carcass. Very, very sad. We found some pictures and video and its just amazing how big the mother was. I'm glad she wasn't there anymore when we went because I probably would have cried.
Okay now I have to post a more cheery photo so this post doesn't end on a depressing note. My dad and I love jigsaw puzzles (much to Josh's disgust) and we did three 1000 piece puzzles while he was here. We worked on them at the dinner table and the dogs desperately wanted to be included so we pulled up a chair for them and they happily sat there and watched. They are weird but incredibly dear.